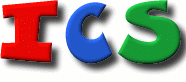 Download
---
ICS Version 2.0 (released 12 Nov 2003)
NOTE: The instructions below are out of date, and The downloads will probably not work. The sources are available at github.com/SRI-CSL/ICS. If you really want to run ICS, you'll need to get the sources and figure out how to rebuild it, as we have stopped support for ICS.
ICS is free under the MIT License.
Note: Some ICS 2.0 binaries are also distributed as part of SAL 2.3, and ICS 2.0c (which includes important bugfixes) is available with the

SAL 2.4 pre-release. Only download ICS explicitly if you need the full system (with documentation, shell interactor etc.), or a different version.
Binary Distributions. This is what most users will need. Distributions are available for Linux, Solaris, Mac OS X, and Cygwin. After clicking the link, you will be able to download, but to activate your copy of ICS you will need to register by filling in a simple online form that will automatically generate a license certificate and email it to you.
Source Distribution. This link is password protected. The source distribution requires the SRI FM license to be printed, signed, and returned to SRI for processing. You will then receive a login and password.
For commercial evaluation or use, site licenses, and other licensing questions, please contact fm-licensing@csl.sri.com.
---
ICS Version 2.1 Experimental
This version gives a sneak preview of ICS 2.1 . It is not fully tested and can not yet be considered to be stable.
---
Older Versions (source only)
Note that these all require the same license as the source distribution described above. These versions are of historical interest only.
---
Back to the main ICS homepage
---
Last modified: Thu Feb 12 14:33:54 PST 2004 by Harald Rueß