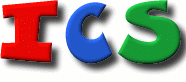 Status
---
12 Nov, 2003
ICS 2.0 released
15 Mar, 2003
ICS 1.1 released; includes improved inequality reasoning, support for extensional arrays, an improved list solver, and an integration of a SAT solver (previously known as ICSAT). It includes also binaries for Mac OSX.
30 Oct, 2002
A modified ICS 1.0.alpha which includes new theories such as coproducts, function application and abstraction, and arithmetic interpretations of bitvectors has been released.
15 July, 2002
ICS 1.0 released
1 August, 2001
Experimental version can be obtained for evaluation purposes under a nondisclosure agreement with SRI.
10 July, 2001
A prototype implementation of ICS has been completed, and its initial release has been announced at CAV 2001.
---
Back to the main ICS homepage
---
Last updated 18 Oct 2003 by Harald Rueß